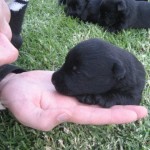 Scottie puppies rock! And there were seven of them!
When we left, the eyes were open, the ears were starting to stand up and even some teeth were starting to show!
It would have been so simple, so easy, to just sneak one onto the plane — SA Express would never have known!
Could have shared the 'mid-afternoon snack' bagle and everything! [piclens-lite-link]